Manka Bajaj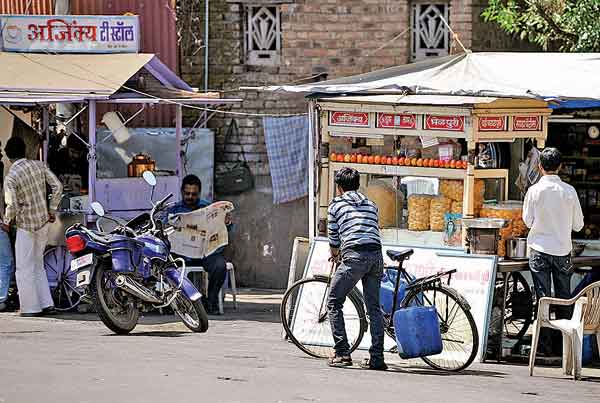 On February 23, a rather sensational article in the DNA,

Puneites, Look where the Pani in your Pani-Puri comes from

, exposed photographs of a Pani-Puri vendor sourcing water from the tap of a public toilet near Shaniwar-wada. At 5:15 pm the next day, a municipal squad was seen patrolling the area, seizing food items from about 15 stalls (see

Pune civic body cracks down on 'Toilet Pani' Puri

).
Photo Credit: DNAIndia.com
The Pune Municipal Corporation (PMC) has conducted similar raids in the past. Last month, 5361 kg of food cooked in the open was confiscated and destroyed, including 992 litres of
Masala Pani.
According to the PMC Health Chief, RR Pardeshi, action against erring street vendors and juice centres is taken under sections 338
1
and 339
2
of the
BPMC Act 1949
(see
6,000kg street food destroyed in crackdown
). The provisions empower the PMC to seize and dispose 'unwholesome' eatables.
Is Toilet Pani unclean?
Outside
the world constructed in our heads, it is no different from regular tap water. Since it is not general practice to recycle grey water
3
in Indian cities, the water in our kitchens and bathrooms is sourced from the same supply chain
. This water is publicly supplied,
unless people are digging it out of the ground themselves. Further, it
is supposed to be potable - a water treatment infrastructure is in place although network contamination is possible in some areas
. People above their 20s might remember drinking water off the tap once upon a time. A majority of Indians continue to do so, even in the age of filters.
In Pune, the service provider is none other than the PMC. After claiming that
100% of the water it supplies is potable (see
2010 Report
), our protagonist went on to confiscate, what it itself provided, on 'unwholesome' grounds.
Only a water analysis can confirm if the water really was contaminated and at whose end, but in this case, a news article was
enough to trigger
the PMC
raid on
Friday
. It
seems that the PMC is falling for privileged perceptions about tap / toilet water.
It would be useful if the PMC could channel its enthusiasm to address the more pertinent issues that make street food unsafe. Research indicates that hygiene is compromised primarily due to imprudent handling and storage rather than unfiltered water

4

. The

Consumers International

Survey finds that most street food vendors get their water from municipal systems; the problem arises when stored water is used instead of running water. In India, 99% of street food vendors re-used stored water multiple times for washing hands and dishes. The national coordinator of the Street Food Survey

5

, SP Gupta, identifies similar issues, "The most vulnerable activity from the health point is mixing of ingredients by hand by workers at a majority of units without proper washing of hands and utensils."

6
We all have a right to our own perceptions. Nobody has to confront a plate of
Toilet Pani-Puri
to deconstruct their notions of dirt. But it is irresponsible of the PMC to blindly subscribe to a social construct. It should back up its actions with solid facts if it plans to continue disrupting people's livelihoods in the guise of a guardian
.
[1]

338. Unwholesome articles, etc. to be seized
[2]

339. Disposal of perishable articles seized under section 338
[3]

Indoor Grey water recycling enables water from showers to be used for flushing and can reduce water usage of households up to 30%. It is practiced under the International Plumbing Code in many American, European and Australian jurisdictions.
[4]

Health risks of street juice arise mostly because ice is substituted by industrial ice
[5]

An initiative of the World Bank and the Ministry of Health and Family Welfare, GoI